Who we are?
We are a service designed for obligated persons ensuring the fulfillment of legislative obligations in order to detect and identify unusual business operations.
Why OK AML?
If this is your activity:
You are obliged to perform:
Assess and evaluate risks

Keep written records of trade assessments

Determining the origin of funds or assets

In defined circumstances, refuse to trade or enter into a business relationship

Report an unusual business operation to the Financial Intelligence Unit

Delay an unusual business operation
You are required to update:
Anti-Money Laundering and Counter-Terrorism Financing (AML/CTF) program,

Documents, Data and Information

Reviewing specific deals during a business relationship
Detailed and ongoing monitoring
Increased care and other measures
Increased degree and nature of business relationship monitoring
Risks of legalization and terrorist financing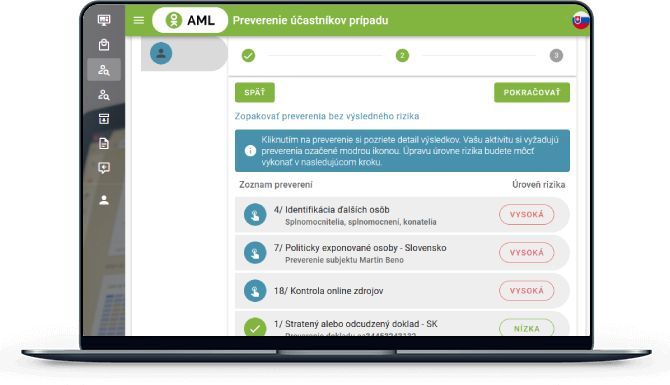 Time saving
Stable partner
Insurance
Security
Legislative protection
Regular updates
How to start?
You can use the OK AML service almost immediately.
Three simple steps are all it takes:
Create an account

Registration is fast, just enter your email. Try it.

Registration

Log in to the application

With registration you automatically get a free version with which you can perform 3 full scans per month for FREE and without obligation.

* The free version also includes an updated Slovak list of politically exposed persons

Make up your mind

If you need more scans, or if you want to use more features in the application, buy the corresponding package, or just buy extra scans.

Packages
Are you interested?
Contact us and we will be happy to help you provide additional information